Red Cross ambassador sails onboard Cape Moss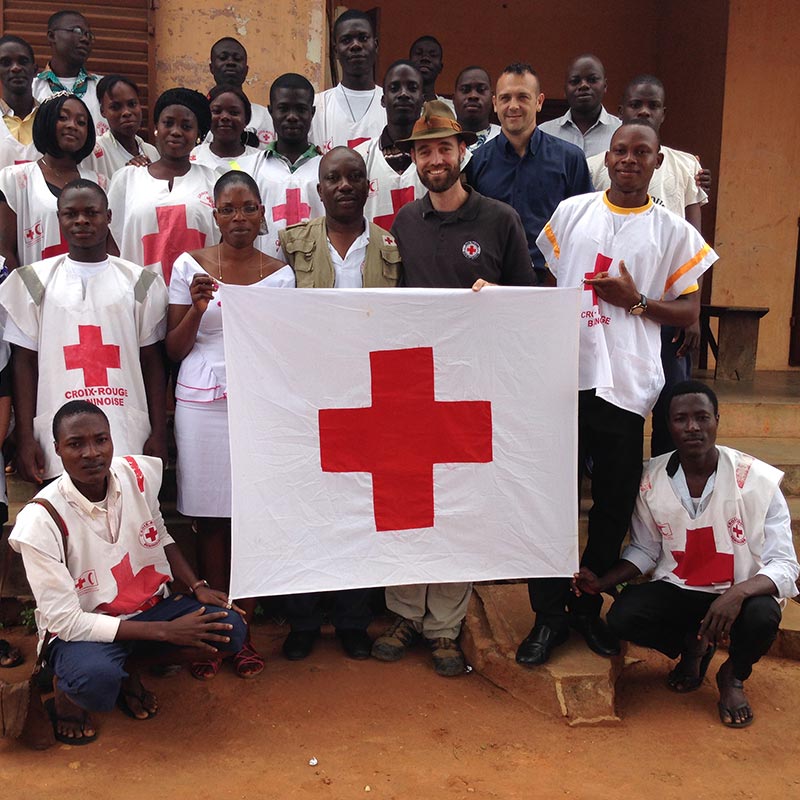 A diary of one man's journey
"Once upon a Saga" is my one-man journey to visit every country in the world in a single journey, without the use of flight while travelling as a goodwill ambassador for the Danish Red Cross. My project begun on 10th October 2013 – on my travels I report on and promote the Red Cross, an organisation founded in 1863, throughout 190 countries in the world.
This will be a surface journey by scheduled ground transportation; that is primarily trains, buses and boats of different sorts. I am traveling the world on a $20/day budget. It covers food, transport, where I sleep and visas. It's possible because a lot of the world is pretty cheap to live in if you buy local food and travel like the locals. The days slowly approached the date where "Cape Moss" was due to arrive to Tamatave. "Cape Moss" was the containership which was going to take me to Seychelles from Madagascar. For whatever odd reason - I'd been told in Antananarivo that it's against the law to leave Madagascar by boat? Columbia Shipmanagement (CSM) to the rescue!! Yes! CSM invited me onboard the "Cape Moss" and ended that myth.
I had a 14 days visa for Madagascar which eventually expired. I had thought I would be able to leave sooner. But it didn't turn out like that and I had to spend a lot of time with the very bureaucratic immigration. Eventually it all worked out, "Cape Moss" arrived and I climbed onboard on July 19th 2016.
I had forgotten how big ships can be. I haven't been near a sizable ship for a while.
"Cape Moss" is the 7th containership I have boarded since the Saga begun. She is 212.6 meters long and can carry 2800 20 foot containers – a sizable lady! I was greeted with respect as I climbed onboard and everything has been really easy since then! I was shown to my cabin which happens to be "the owners' cabin". It's huge!! Its on "E deck" along with the Captain's accommodation and the Chief Engineer. The only thing above "E deck" is the bridge. So it's pretty classy!
I have been dining in the Officers mess where I sat at the table between the Captain and the Chief Engineer who were both great guys. Food was served 3 times a day with snacks, fruit and beverages available in between meals. There's the crews' recreation room, where I was welcome to sit and watch movies or sing karaoke or whatever I was in the mood for. On the main deck I could use the gym, which I actually did. So now I can say I've been running for 25 minutes on the Indian Ocean!
The "Cape Moss" is a beautiful and well-kept ship, which was built in China only 5 years ago. So she is young as well. There is a very good atmosphere onboard which comes from having a good crew combined with good leadership. I've really enjoyed my time onboard. I've had the opportunity to sit and complete some work in my enormous onboard office. That's excellent and I feel up to date on lot of things.
Something magical happened that day we left Tamatave. I had been told that it was the right time of the year to see whales. But this was ridiculous!! As we left the port around 3 PM we set our direction towards the horizon and whales started appearing on both sides of us. You know the classical "tail whip"? I saw that 10…20…30 times. There was a whale which was sort of rolling around quite near the ship and then there was my favourite! I saw a whale, fully jump out of the water, turn 180 degrees in the air and crash back into the ocean! Gold!!
A modern ship like this one produces its own water from the ocean (desalination). So there's plenty of it!! And it's heated without extra cost by the enormous engines which push the ship forward, so it's really the place to be if you want to enjoy long warm showers without feeling guilty.
On this Saga journey I have so far found, that while the world contains horror, most of everyone we share this planet with are good, well-meaning people with good intentions. Politics and religion are important to some people, but often I find that these 5 things are far more important: family, food, music, sports and talking about the weather. Those people just want to carve out a small part of the world for themselves. They ask for little more then to get by in life and to see their loved ones prosper.
My gratitude to Columbia Shipmanagement and the entire crew of "Cape Moss" for taking part in the Saga and bringing us one country closer to making world history a reality. It's deeply appreciated! Fair winds and following seas to all!
Torbøjrn C. Pedersen (Thor)